The PromTex polypropylene webbing strap is made of high quality multi-filament polypropylene lines due to which it can withstand heavy loads. Polypropylene fibers are many times stronger than natural fibers, so straps made from them can withstand multiple chafes and bending.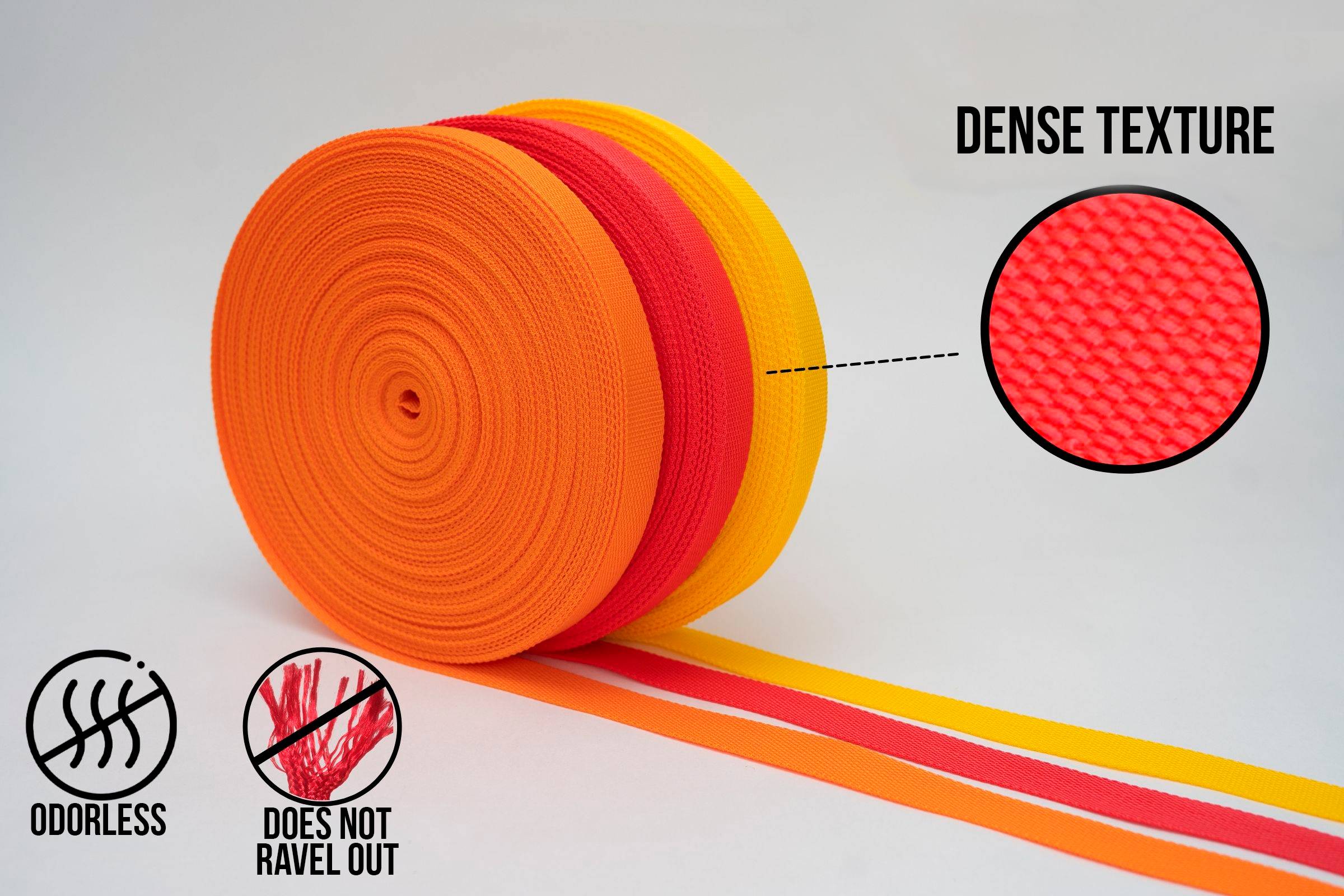 They are lightweight, resistant to hight and low temperatures, high humidity and direct sunlight, so they can be used in all climatic zones. They are resistant to chemical aggressions, have low electrostaticity and a small extension rating, but also have high elasticity. The 25 mm / 1 inch strap is 1.15-1.25 mm / 0,045-0.05 inches- thick and has a breaking weight of 281 kgs.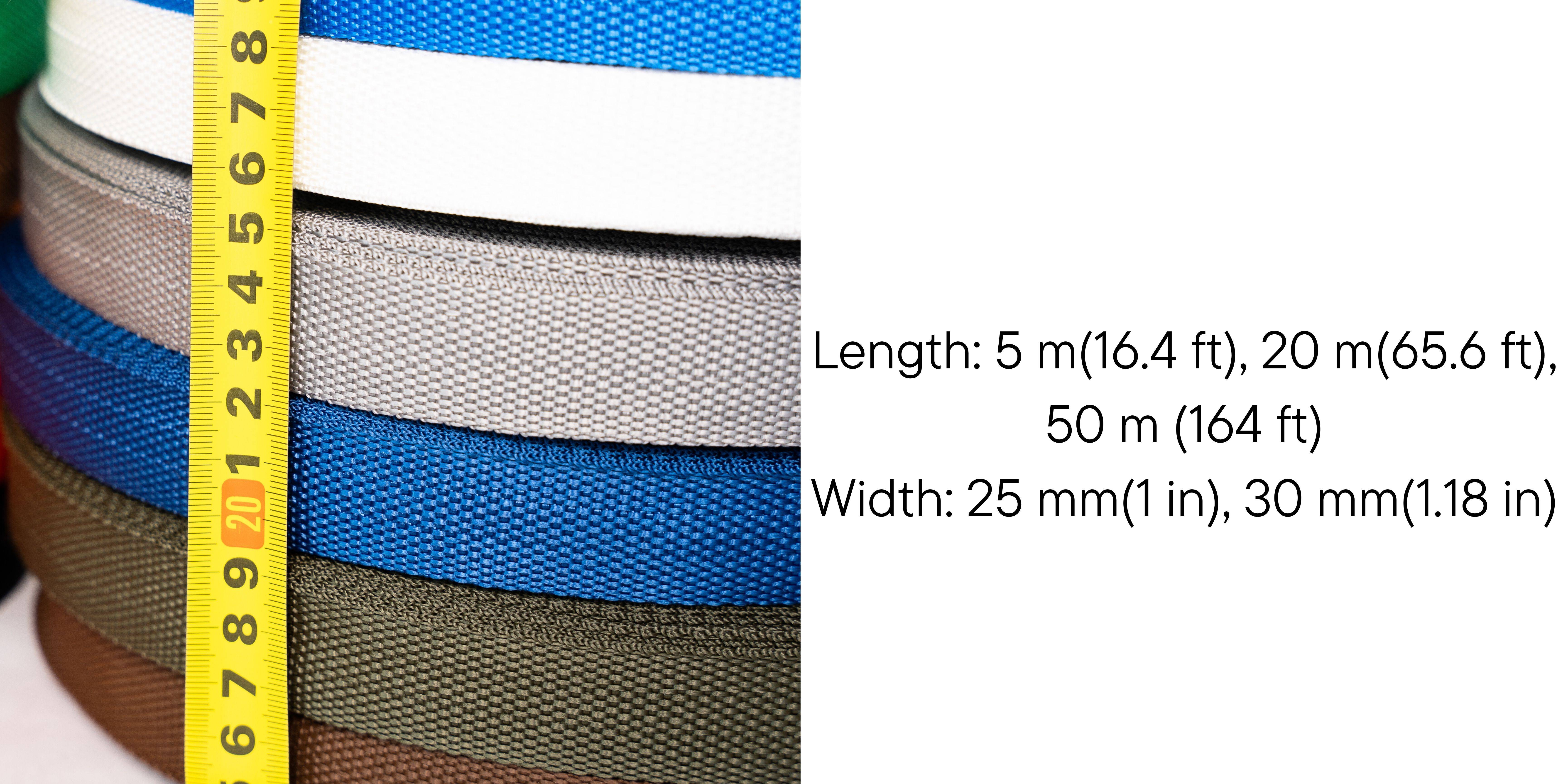 The products are resistant to attrition, high strength and durable. They are odorless, do not absorb dirt and are easy to clean. Due to the dense weave of threads, the cutting edge of the straps does not "ravel out". The straps are compact to store and transport.
This durable and reliable strap is a modern type of material, which is widely used in various areas such as the production of clothing (work clothes, sports uniform, casual), small wares (sports, travel bags and backpacks, suitcases, briefcases), industrial and alpinist, tourist, fishing, sports equipment. In manufacturing of soft furniture and covers, including car accessories. As well as for pets - loungers, collars. Also used in the sewing of body armors, parachutes. This is a reliable material for use in the technology of direct mounting (fixing the formwork, plaster mesh and profiles before the installation of networks and communications).
Strong and webbing straps are also used in manufacturing of devices for transportation and packaging of goods. With them you can quickly, conveniently and safely lift or move valuable and fragile things. 
Wide range of colors: brown, yellow, black, khaki, blue, gray, cornflower, orange, red, green, white, beige. 
Individual color from 10 000m/6 miles is possible. All production of PromTex is made on modern equipment from certified raw materials made in Russia.
Ordering from the manufacturer, you get products that have passed strict quality control at all manufacturing stage.
ООО «ПромТекс»
We are a textile company PromTeks. We are a long-term manufacturer of belt tapes (slings), cords and rubber. Production is located in the Udmurt Republic, the city of Votkinsk.
Quality is a priority indicator and an unchanging policy of PromTeks LLC. Our clients are people from completely different areas: tourism and fishing, clothing industries, zoo studios, sportswear manufacturers and many others.
Today, the equipment park consists of modern weaving, braiding, knitting and warping machines. Our lines are characterized by high performance.
The material used for the manufacture of products: polypropylene thread and latex. For the manufacture of our products, we use only certified Russian-made raw materials, which guarantees the high quality of our products.
For more than 9 years, occupying a leading position in the market, we can say with confidence that our company PromTeks is a guarantor of quality and reliability. Why us?
Each employee of our company is a professional in his field, and an individual approach to each client is our basic rule.
We provide you with a huge color palette to choose from: more than 15 different shades;
Special conditions for the selection of individual color solutions for each client;
PromTeks is unique in its desire to master new types of products and rapidly expand its product range.
Today, thanks to the continuous and uninterrupted work of our company, we have more than 1000 satisfied customers.